Del Mar Vacation in Cardiff-by-the-Sea | Cardiff Vacations
---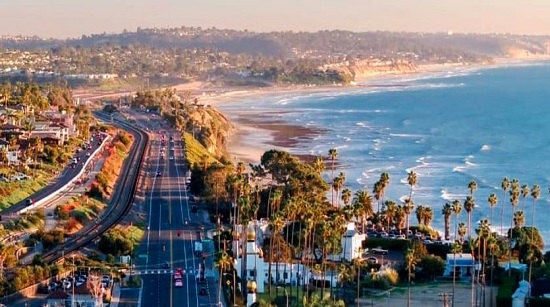 Cardiff-by-the-Sea is located just north of Del Mar. Del Mar is most famous for its renowned horse racing track, which is less than a mile from the ocean and is often referred to as "the place where the surf meets the turf". The Del Mar Racetrack is a thoroughbred horse racing venue large enough to accommodate nearly 50,000 spectators. The racing season starts in mid-July, August and ends in early-September.
Due to the racetrack's popularity, Del Mar can be quite busy, especially during the racing season and it can be quite hard to find accommodations and enjoy a relaxing stay. Del Mar residents and travelers choose our vacation rentals in Cardiff-by-the-Sea for close proximity to the beach, stunning sunsets and ocean view, location and local attractions.
Maybe you are wondering, why is Cardiff-by-the-Sea such a popular choice of destination for those wanting to visit the city of Del Mar?
it is located just a 10 minutes' drive away from Del Mar.
it is a peaceful small city that has a friendly, welcoming community
it is home to The Cardiff Seaside Market where you can find always fresh products
there are various local attractions nearby
We, here at Cardiff Vacations, strive to provide you with the best vacation experience when choosing to stay with us. To do so we have put together various guides to the local attractions and happenings for you to be able to plan ahead for your trip and make the best out of your time here.
You can check out our Cardiff-by-the-Sea daily planner for an organized and detailed look into what our area has to offer.
Our Ocean View Stylish Accommodations Located Very Close to Del Mar
We offer short or long-term accommodations in three different villas. The Parkhouse, The Penthouse, and the cozy ocean side Seacottage, which are all fully equipped and benefit from a fast internet connection. Our apartments are the perfect setting for anyone looking for a breath of fresh air, with a magnificent ocean view that can be taken in from our fully furnished decks and a decor that will make you feel right at home.
As a guest of Cardiff Vacations, you will experience our en-suite facilities and the fantastic location in the charismatic Cardiff-by-the-Sea. Start by conveniently online booking through us directly to eliminate any extra fees and get personalized attention to details. When you choose Cardiff Vacations, you can rest assured that our number one priority is making sure you enjoy your stay to the fullest in great vacation homes.