Covid-19 Safety & Precautions: We follow all CDC guidelines for the safety of our clients and their families Read more »
Cardiff-by-the-Sea Penthouse Vacation Rental
---
6 guests | 2 beds | 2 baths
---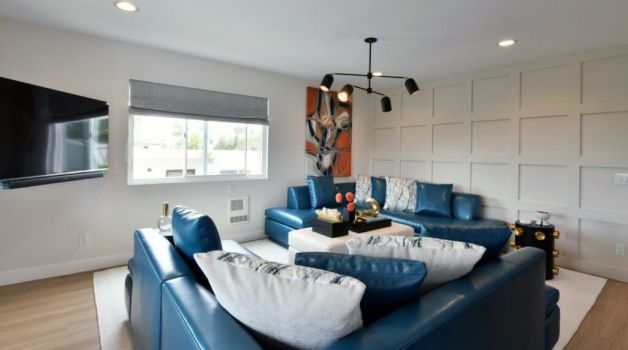 This swanky remodeled 3 story duplex is located in the heart of Cardiff-by-the-Sea. The upstairs "Cardiff Penthouse" has been remodeled by KC Interior Design, giving this place the edgy contemporary modern look.
It evokes sophistication with spanking new Chef's kitchen surrounded by custom black cabinets, modern appliances with touches of rose gold and brass.
The bathrooms offer a spa-like experience, complete with Turkish cotton towels.
Each room has been beautifully furnished with custom-designed furniture to further compliment the sophisticated rock star personality. 
The master bedroom has extra seating with a walk-in closet and the master bath has been completely redone with black tile in a 3D dimension.
The deck is furnished with an outside table and grill for an afternoon or evening soiree and a beautiful couch to catch the evening sunsets with your favorite beverage.  You can lounge comfortably on the deck which further captures the magnificent ocean views. 
This penthouse is supplied with percale cotton sheets, Belgian linen quilts, and Turkish cotton towels. 
No need to buy bottles of water while on vacation. The Penthouse has a new HALO 5 whole home water filtration system that removes chlorine, heavy metals, dyes, pesticides; say hello to the best glass of cold water right of your faucet and enjoy a clean fresh shower.
Whether you wish to lounge in elegance or grab your surfboard and head to Cardiff beach and catch some waves you can come back and freshen up in the outdoor shower for your evening festivities. You can rent the Cardiff Penthouse or the Cardiff Parkhouse separately or if you have a family event in Cardiff, Encinitas, CA, you can rent out the entire duplex and create the magic only Cardiff-by-the-Sea can offer.