Covid-19 Safety & Precautions: We follow all CDC guidelines for the safety of our clients and their families Read more »
Cardiff-by-the-Sea Parkhouse Vacation Rental
---
6 guests | 2 beds | 2 baths
---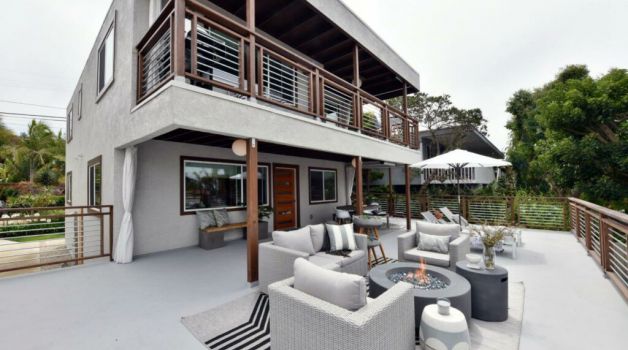 The "Cardiff Parkhouse" is a newly remodeled 3 story duplex by the amazing Kitchy Crouse of KC Interior Design. It is a beautiful and tranquil modern oasis with beds fitted with percale cotton sheets and Belgian linen quilts, along with a fully furnished deck and elegant decor. The Cardiff, Encinitas Parkhouse has been showcased in San Diego Home/Garden Magazine and used numerous times for TV shows and media.
In front of the park and minutes to walk to the beach.
When you enter this clean contemporary fresh Oasis you will be pleasantly surprised with the quartzite stone island and countertop which has seating for 6.
Bathrooms add luxury to your spa-like experience and the beautiful bedrooms will offer the best night's sleep.
The enormous deck measures 900 square feet.
This open concept is inviting and with its warm wood pieces, it completes the casual-chic décor.
No need to buy bottles of water while on vacation. The Parkhouse has a new HALO 5 whole home water filtration system that removes chlorine, heavy metals, dyes, pesticides; say hello to the best glass of cold water right of your faucet and enjoy a clean fresh shower.
You can rent the Cardiff Penthouse or the Cardiff Parkhouse separately or if you have a family event, you can rent out the entire duplex and create the magic only Cardiff-by-the-Sea can offer.