Although it is best known for its legendary surf spots, there's so much more to enjoy in Cardiff-by-the-Sea. In addition to beach activities, there are dozens of activities to choose from that can make your vacation unforgettable.
With a scenery that seems cropped out of exclusive travel magazines and year-round mild weather, Cardiff-by-the-Sea and Encinitas area is an excellent place to explore on a bike. All you'll have to do is prepare some snacks for the road and go for a refreshing ride.
Locals and tourists pedal up and down the San Diego coast on weekdays and weekends. When you are going for a ride, you'll get to enjoy the breathtaking views, and rest at one of the coffee shops along the way.
Amazing Coastal Bike Trails for All Skill Levels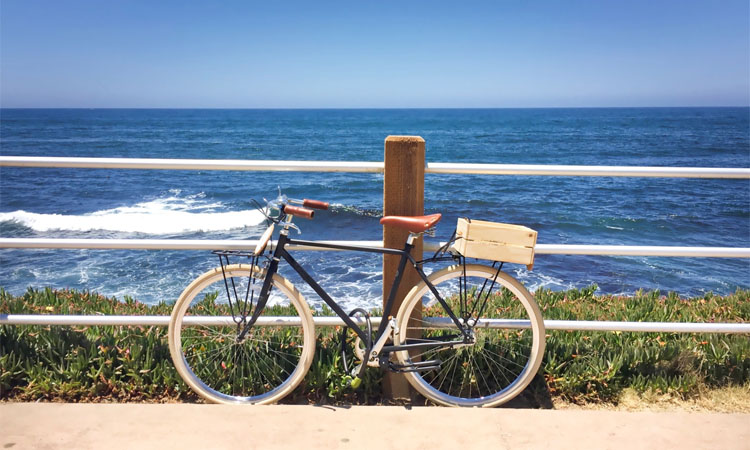 Given the wide variety of trails in the area, some better than others, it may be hard for you to choose, especially when riding with kids. Also, if you want to do a bit of calorie burn, you should definitely try one of the biking trails we listed below.
Pacific Coast Highway stretches all the way up the California coast, but local bikers like to start their tour in Del Mar and travel north to the Camp Pendleton Marine Base before turning around and heading south. The road parallels the Pacific Ocean, and it's flat in places, rolling in others.
Swami's Seaside Park - San Diegito River Estuary loop from Encinitas is suitable for all skill levels, but good fitness is required. The route includes a segment in which biking is not permitted; bikers need to dismount and push their bikes. Higlights of the tour: Swami's Seaside Park, San Diegito River Estuary, an Elijo Lagoon Ecological Preserve, Coastal Rail Trailhead Cardiff-by-the-Sea.
Moonlight State Beach - San Diego River Estuary loop from Encinitas bike tour is for experienced and fit bikers but goes through unique places. These are some of the tour's highlights: Moonlight State Beach, San Diego River Estuary, San Elijo Lagoon Ecological Preserve, and San Elijo Lagoon Estuary Channel. Some portions of the trail may require bikers to push the bike.
San Elijo Lagoon in Cardiff-by-the-Sea provides beautiful hiking, walking, and bike paths! Visitors can explore safe, convenient, beautiful, and well-designed bike paths from sunrise to sunset. Twice daily, incoming tides cover much of the landscape with salt water. A bike and pedestrian-friendly suspension bridge connects the lagoon trail system's east and west halves. The bike portion of the trail connects with the north-south biking system.
The Perfect Place to Rest After Biking Tours
Biking around Cardiff-by-the-Sea is an enjoyable activity, but it can also be very tiring. That's why you should choose a vacation rental where you can enjoy the sunset in a comfortable, stylish setting at the end of the day.
Our properties have been specially designed to offer you the home-away-from-home feeling!
You can choose between our vacation rentals to enjoy a comfortable stylish home during your vacation in Cardiff:
Enjoy our fantastic biking trails. Enjoy your vacation in Cardiff-by-the-Sea!