We love seafood - the flavor and the healthy dose of fresh nutrients - make it an excellent choice for lunch or dinner. When it comes to seafood, there's no shortage of excellent eateries in and around Cardiff-by-the-Sea. Aside from the beaches and world-class surfing spots, this quaint beach town is a must-visit destination for all the foodies who want to enjoy a first-class culinary experience on vacation.
There are many restaurants with fresh local seafood with a fantastic ocean view to choose from that can satisfy even the most exquisite tastes. Between all the options, we know it's challenging to decide where to go to taste the best seafood, so we're coming to your aid with a list of the top seafood spots to create the ultimate seafood experience.
Best Seafood Spots in Cardiff-by-the-Sea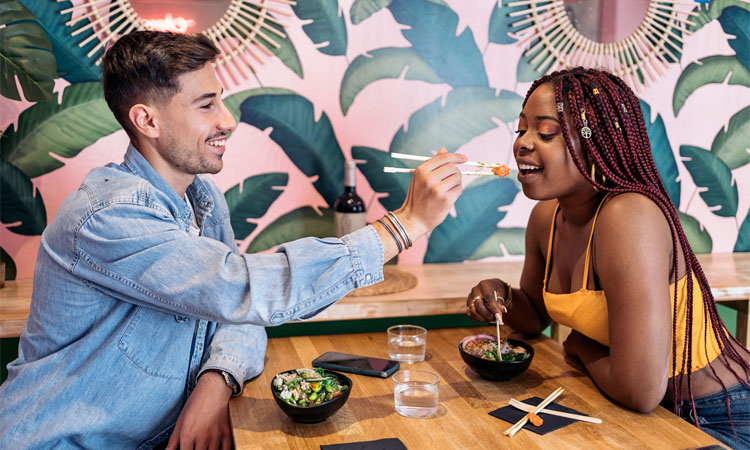 1. Pacific Coast Grill - Cardiff - 2526 S Coast Hwy 101, Cardiff, CA 92007, United States
Whenever you want to indulge in an exceptional dining and visual experience, the award-winning Pacific Coast Grill, with two levels of bars, decks, and patios, is your go-to place. This oceanfront venue features a plethora of delicious seafood choices.
Our Pacific Coast Grill favorites are:
Seafood Pasta
Cardiff Reef Roll
2. Herb & Sea - 131 D Street, Encinitas CA, 92024
Near Moonlight Beach in Encinitas, this top-notch restaurant features a mix of raw bar classics, fresh seafood, and carefully handpicked herbs.
Our favorites are the raw bar classics, including:
Oysters on the Half Shell
Ceviche
Hamachi Crudo
3. Ki's Restaurant - 2591 S Coast Hwy 101, Cardiff, CA 92007, United States
This Cardiff gem with a stunning ocean view is our pick for a relaxed Sunday brunch. If you want to immerse in the local beach community vibe, Ki's Restaurant is your place to be. We recommend their:
Miso Salmon
Crispy Coconut Shrimp Skewers
Best Seafood Spots in Carlsbad, California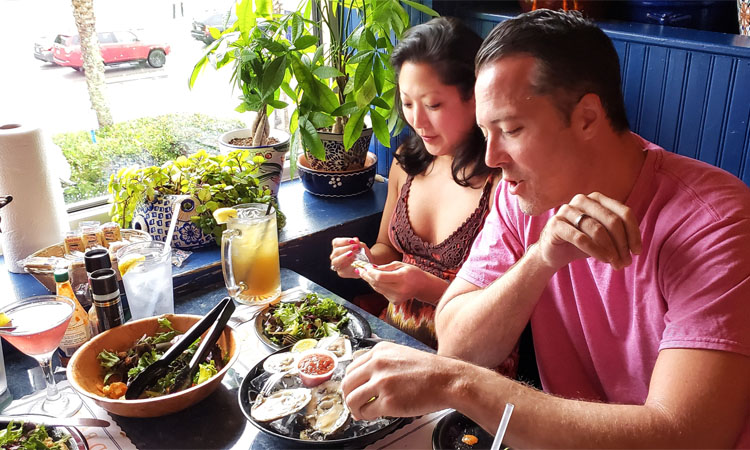 1. Bluewater Grill and Bar - 417 Carlsbad Village Dr, Carlsbad, CA 92008
Bluewater Grill specializes in sustainably sourced seafood, salads, grilled meats, and pasta. A full bar, spacious patio, and a retail seafood market make it a must-visit spot for oyster connoisseurs. We love their:
Spanish grilled octopus
Fish tacos
2. Chandler's Oceanfront Dining- Cape Rey Carlsbad Beach - 1 Ponto Rd, Carlsbad, CA 92011, United States
A Coastal Kitchen & Bar offers fresh SoCal ingredients, innovative cuisine, an impressive wine list, an expertly crafted menu, and cocktails. We recommend our favorites:
Crab Cake Sliders
Maine Lobster Rolls
3. King's Fish House - 5625 Paseo del Norte, Carlsbad, CA 92008 | 760.431.3474
One of the most popular restaurants in the San Diego area, King's Fish House, is all about fresh and savory seafood. If you want to spend the evening with friends or family, this is an excellent option with a first-class seafood menu complemented by a large selection of brews. Our favorite meals:
Lemon Nut Crusted Wild Mexican Sea Bass
King's Combo Platter
Grilled Wild Alaskan Halibut Tacos
King's Spicy Seafood Chowder
4. Carlsbad Aquafarm - 4600 Carlsbad Blvd, Carlsbad, CA 92008, United States
Whether you are an oyster connoisseur or a novice, if you are having a vacation in Cardiff-by-the-Sea, we recommend visiting the Carlsbad Aquafarm for a unique 1-hour farm tour and oyster-tasting experience. You'll get to taste the freshest and cleanest oysters you'll probably ever have. Oyster tasting at Southern California's only oyster farm is a one-of-a-kind experience.
5. Chart House - 2588 S Coast Hwy 101, Cardiff, CA 92007, United States
Chart House impressed us with a vast array of savory dishes made from the freshest ingredients. Chart House offers a memorable dining experience with stunning ocean views, innovative cuisine, and delicious seafood. Our Chart House favorites:
Lobster Bisque
Shrimp cocktail
Kim Chee Calamari
Luxury Vacation Rentals for a Memorable Stay in the San Diego Area
You will find our stylish vacation rentals in a beautiful natural environment resembling a pristine oasis. Located in Cardiff-by-the-Sea, only 20 minutes away from San Diego, our rental homes are ready to welcome guests all year round.
The Parkhouse, the Penthouse, and the Seacottage are comfortable and stylish accommodation choices to make the most of your vacation.
Our condos are located within walking distance of the beach and the best local seafood spots. If it's your first vacation in Cardiff-by-the-Sea, we will gladly help you in creating an itinerary to the top local attractions.
Enjoy your Cardiff vacation!