There are so many things that make San Diego a great place to live in and most of all, to vacation in. From great weather all year-round to wonderful beaches and lots of perfect spots for fishing where enthusiasts can really enjoy the experience, any escape to San Diego and the adjacent areas will surely be memorable.
While Pier fishing doesn't require a license, anyone over 16 wishing to go out on a boat and have fun while catching some fish needs to have a fishing license. You can get it pretty easily, and the standard sportfishing license is valid statewide, in saltwater and freshwater. You can purchase a license from the California Department of Fish and Wildlife and you have the option of choosing it for a period starting 1 day to a year. San Diego is one of the most productive areas for fishing, having over 70 large vessels and dozens of charters to choose from. The SoCal area is famous for catching more tuna than anywhere else in the world and there are some great spots where you can relax on the ocean and exercise your fishing skills. But aside from tuna, the ocean waters here offer numerous types of fishes and boats departing from San Diego's bay only need around 30 minutes to reach some of the most productive fishing grounds. Here you can also find some of the best freshwaters, with numerous lakes and reservoirs where you can fish for trout and largemouth bass.
In terms of variety, San Diego is definitely one of the best fisheries in the world. No matter the time of the year, there are high chances to catch something good and this is because there is always good weather and water temperatures. Here are some of the types of fishes you can catch in the San Diego area.
If you want to quickly catch some tasty fish, California Halibut is a great option, which you can fish for right in San Diego bay.
Rockfish is also a pretty common fish you'll find and if you want to adventure into deep waters, chances are to catch some pretty big fish. You'll need to find a rocky structure, as they can primarily be found near these types of areas.
White Seabass is also a common catch and what's great is that they tend to grow pretty big which makes catching them even more fun. You can find them virtually everywhere in SoCal waters and throughout all seasons.
The Yellowtail Amberjack is probably San Diego's fishers' favorite. Going further south you have a higher chance of catching bigger yellowtail.
Another favorite is tuna, which can be easily found in Catalina and San Clemente islands. From Yellowfin to Bluefin, you can catch some pretty impressive tunas in the San Diego waters.
Fishing in San Diego Bay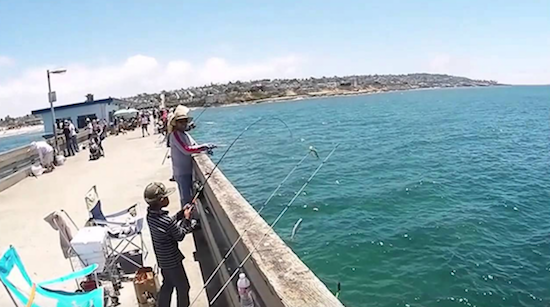 San Diego Bay has a vast array of fishes, which makes it a paradise for fishing enthusiasts. You can find lots of aggressive spotted bay bass which are available all year-round. Additionally, you can also catch California halibut and shortfin Corvina. Fishing in San Diego Bay is excellent, especially because you don't need a license to do it so you'll often find many locals and tourists relaxing though this activity.?If you're looking for some good calico bass and barracuda, Ocean Beach Pier is a great spot for catching some of these kelp species. Ocean Beach Pier is said to be the longest concrete pier in the world, measuring close to 2000 feet. It is also built in a T-shape at the end reaching over 300 feet to the South end and 193 feet to the North with a width of 20 feet throughout the pier. On the south extension of the pier, you can also find kelp and sand bass.
The largest spot for fishing is the Cesar Chavez Park Pier, where you can catch deep-water species without needing to get on a boat. The most popular types of fishes you can catch here include spotted bay bass, halibut, barred sand bass, leopard sharks, and shovelnose guitarfish.
Fishing in The Coronado Islands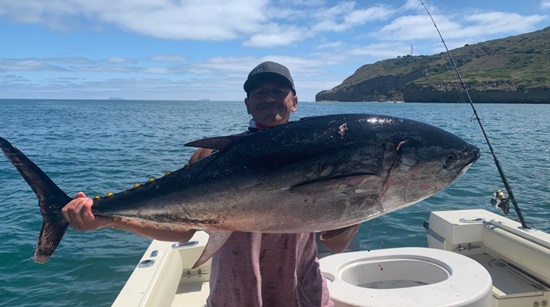 The Coronado Islands are located south of San Diego and they are filled with all sorts of special fish which makes them a great spot for fishing all year-round. The key to a successful fishing trip is catching favorable sea conditions though. The direction from which the current hits is extremely important. For the bite to get going, currents should be running from west to east or northwest to southeast. If there current is perfect and the water is clear, you have high chances of catching some impressive fish.
The period from November to March is great for catching kelp bass, halibut, sculpin nad semi-migratory yellows.
There is also a good population of white seabass but they're pretty hard to catch as they tend to be picky feeders and don't easily take hook baits. Early April usually brings an influx of yellows coming from Baja. Fishing for spring yellowtail usually means chasing fast-roving schools that feed on fragments of sardines. During the spring period, you can also fish for barracudas which often gather in the Middle Grounds and South Kelp.
In the summertime, yellowtail settles in the Coronado Islands which makes for some good quality fishing. Yellowtail is joined by barracudas and bonito as well as bluefin tuna. Warm water temperatures also bring some more exotic fish like dorado, yellowfin tuna, bigeye tuna, and oceanic skipjack. Depending on how warm the weather is during a certain year, autumn can also be a great period for catching yellowtail.
Fishing in Oceanside and Carlsbad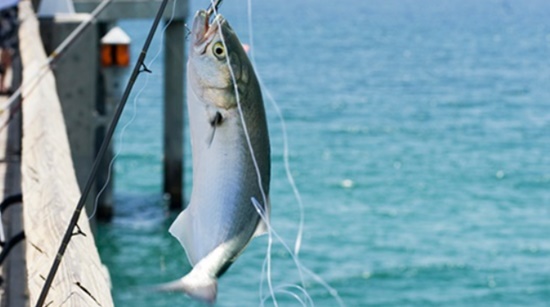 Situated about 30 miles north of San Diego, these are great fishing areas to explore in SoCal especially if you want to experiment with fishing styles. The Oceanside Pier stretches about 1900 feet into the pacific and it's arguably one of the best spots in SoCal where you can get sandy species, rockfish, and sculpin. The mid pier is also great for California halibut but also for white croaker, guitarfish, jacksmelt, and walleye surfperch. Near the end of the pier, you can find barracuda, bass, and occasionally bonito. Another great spot is the Oceanside Artificial Reef, which is located 1.75 miles from the entrance of the Harbour. Here you can find barred sand bass and occasionally white seabass.
If you venture in Carlsbad waters, you can find a great kelp bass fishing spot situated right off the main part of the city. During the spring season, when the water is warmer, this area is filled with barracuda. Also an excellent place to flyfish because of its warm weather and nice sea, is the Carlsbad canyon situated right off the coast of Carlsbad. Here you can find deepwater rockfish species, particularly bocaccio and chilipeppers.
Fishing in Catalina and San Clemente Islands
Catalina offers a great variety of fish and a day trip here can turn out extremely prolific. If you go to Salta Verde Reef, you can find a lot of calico bass and during the colder months, white seabass. The best spot for fishing in Catalina though is thought to be Farnsworth Bank which is a great place for catching bluefin tuna, yellowtail, bonito, and barracuda. Here you can also fish for rock cod and white seabass.
The San Clemente islands have everything a fisher wants: kelp beds, rocks, and deep water reefs where you can find a lot of good fish. They the biggest yellowtail population on the entire coast with the hottest spot being China Point to Seal Cove. At about 1.5 miles south from China Point, you can find the China Point Reef where you can catch yellowtail, barracuda, bonito, red rock cod, and many other exciting species. On the northwest end of the island, you can find a spot called Castle Rock which is an excellent area for catching species like barracuda, calico, and bonito. You can pretty much find them all year-round but you have higher chances of a good capture when the water is warmer.
Fishing in Mexican Waters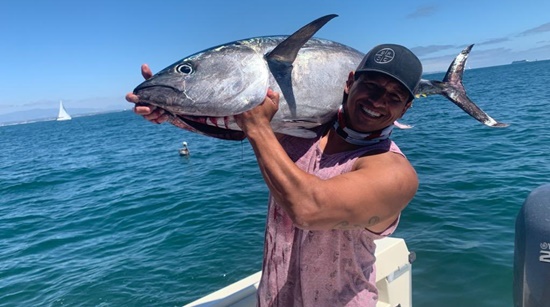 Baja, the Mexican peninsula surrounded by the Pacific Ocean and the Sea of Cortez is an excellent fishery where you can find many good species. Fishing here requires a Mexican sportfishing permit unless you choose to fish from land. The bag limit here is 10 fish/permit holders, although catching some larger species may count as five. There is a daily limit on marlin, sailfish, shark, and swordfish but considering the low reproductive rate of the shark, fishers are asked to release them back into the ocean. Baja is very generous with fish species and places where you can be sure to catch some good fish. While Cabo San Lucas situated at the southern tip is one of the most popular, if you want more privacy you can consider La Paz where you can find striped marlin, roosterfish, dorado and yellowfin almost all year-round.
Fishing Trips Can Be A Great Activity During This Period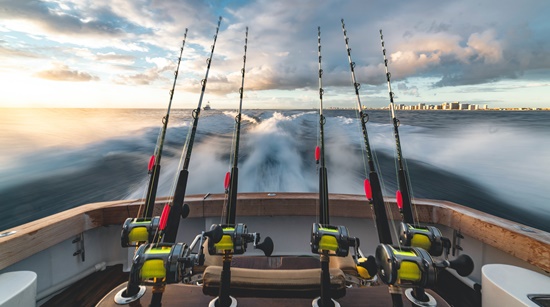 Just like most parts of our normal activities, the current crisis has also impacted our ability to enjoy our hobbies and that also includes fishing. But with the loosening of restrictions and the slow transition back to normal we can also go back to enjoying some time in the ocean. Of course, there are still some restrictions and protective measures that need to be respected in order to do so. For example, if you own a boat you could go out to fish alone or bringing only people living in your household with you. It's unclear at the moment what are the rules for charter fishing and boat rentals, but surely you'll be provided all the necessary information upon booking.
The tough measures imposed during this lockdown, have had a great emotional and mental impact on all of us and it's important that now, with the measures relaxing a little, we try to do things that can help us ease our minds. Fishing trips can be a great activity to do with your family during this period, as they can offer you relaxation and a lot of fun while respecting the social distancing measures. It can even be therapeutic, especially considering the fact that you can be outdoors, admiring the ocean and having all that excitement that comes with the surprise of seeing the fish you caught.
There are many fishing styles you can try in San Diego. The area has a lot to offer for everyone, regardless if you're a beginner or an experienced angler. You can try pier fishing, which is something you'll often see locals do but in the last years it also started being a popular activity for tourists as well and the best part is that this doesn't require a fishing license.
Get your fishing gear, bait & tackle, fishing license, and Mexican permit before your vacation trip to Cardiff by-the-Sea from either one of the bellow listed stores and happy fishing!
Coyote Bait & Tackle
Last Chance Tackle
Squidco Fishing
Saltwater Tackle
East County Bait & Tackle

Kayak fishing is also pretty popular as it allows you to move around and test multiple fishing spots. Many fishing enthusiasts believe though that nothing compares to charter fishing, as it's a no-fuss - only fun type of thing. Bait and tackle are provided abord, the captain takes you to the best places and the crew even helps you clean and prepare your catch. Of course, there are the boats themselves which you could rent and go out into the ocean looking for the best fishing grounds.
This being said, if you've missed the thrill of catching a fish and want to get back to it as soon as possible, San Diego fishes are eagerly waiting for you. If you want to rent a charter, here are some of the best options around.
Salty Bay Charters
Brothers Sport Fishing
Fish Hunter
Coletta Sportfishing
Pacific Queen
Captain Clowers
SeaStar Charters
Safe And Comfortable Accommodations for Fishing Enthusiasts
Taking a few days off to enjoy a fishing trip can be more relaxing than any other vacation and during this period, we all need something to ease our anxieties and give us a sense of normalcy. Getting back to our old habits and a change of scenery can have a great impact on how we deal with everything that is going on at the moment. If you need to get away for a few days and try the San Diego fishing experience, our private, luxury accommodations are waiting for you! We make sure that everything is thoroughly sanitized and completely safe for you and your family. Aside from this, you can enjoy your own private deck from where you can admire the most beautiful views and maybe even have a barbeque to feel more festive. A glass of fine Californian wine will complement your fish dinner and a stunning sunset. You can choose between our Penthouse, Parkhouse, or Seacottage and make your getaway memorable.