We go on vacations and we have a good time and experience all the local attractions but we don't feel fully happy if we don't have something nice to bring back home to our loved ones that missed the trip, because everything is better when we share it with others.
Whatever you are looking for, you can find it here, among the various shops in this area. Here are some of the most common things that you can find:
Jewelries
Crystals & Gemstones
Body Care Products
Artworks
Books & Postcards
Home Decor Products
We have put together a list of some of the best gift stores in and around Cardiff-by-the-Sea so that you can make a good choice and bring beautiful things home to your friends and family so they can experience a little bit of Cardiff-by-the-Sea's magic too.
Village Rock Shop - Crystals & Gifts Local Shop in Carlsbad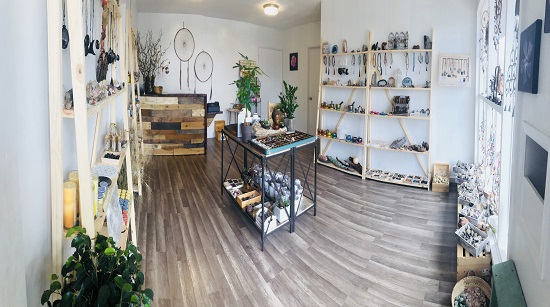 Location: 2690 State St, Suite A, Carlsbad, CA 92008
Phone: 760.626.8520
Website: Village Rock Shop
This is the #1 rated crystals and gemstone gift shop in Carlsbad Village. It is located at just a 15 minute drive from Cardiff-by-the-Sea.
It is a locally owned shop that aims to offer the finest crystals and gemstones from all around the world at an affordable price, also providing impeccable customer services.They provide assistance in selecting the right crystal and they only sell authentic, natural crystals each having its own unique healing and purifying properties.
They also sell a variety of products besides gemstones, such as jewelry, pendulums, suncatchers , dreamcatchers and others.
You can make a very beautiful gift bundle from this store that will surely impress your loved ones.
Earth's Elements Gemstones & Gifts Local Shop in Encinitas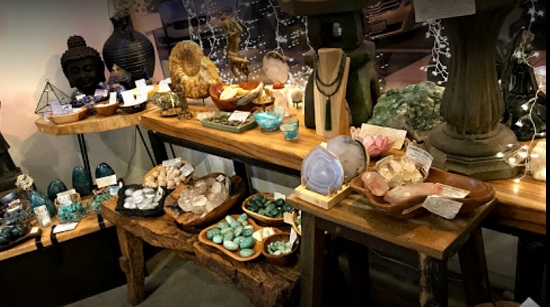 Location: 559 S Coast Highway 101, Encinitas, CA 92024-3532.
Phone: 760.230.6145
Website: Earth's Elements Shop
The shop is located in Encinitas, only 5 minutes away from Cardiff-by-the-Sea. The location creates a peaceful oasis in the middle of a fast-paced world where customers and visitors can come in to recharge. The staff team at Earth's Elements believe the world is in great need of healing and they provide the information that you need and tools that come from Mother Earth to support you in your healing process.
All their products are made off all natural and vegan ingredients. They offer a wide variety of products from aromatherapy, beauty, candles, incense and smudge to crystals, jewelry and home decor.
Soul Scape Gifts & Books Local Store in Encinitas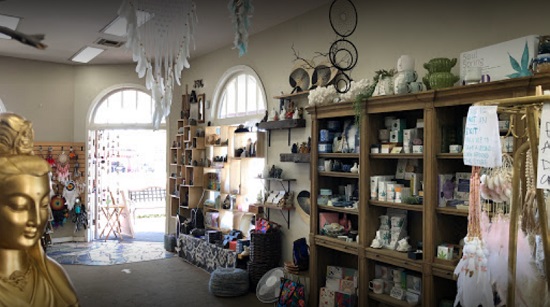 Location: 765 South Coast Highway 101, Suite 106, Encinitas, CA, 92024.
Phone: 760.753.2345
Website: Soul Scape Shop
Soul Scape is a shop that provides books, music and gifts such as candles, body care products, crystals and minerals, salt lamps, yoga supplies, artworks and many others. They have a big variety of books on topics such as philosophy, spirituality, healing, personal development, visionary fiction, children's books, animals, massage, reiki, nutrition, yoga, meditation and the most amazing cards in the area.
They have wide selection of tarot and oracle decks and also one of devotional music with demos to listen to before you purchase. If you are looking for a different kind of gift this is the store for you.
Magical Child Local Kids Gifts Shop in Encinitas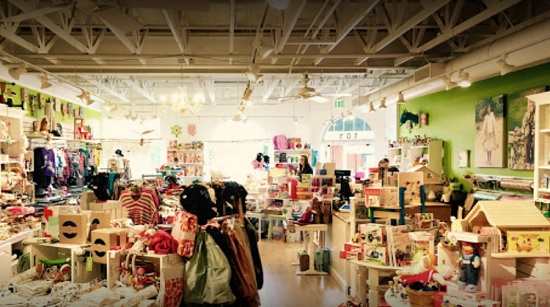 Location: 937 S Coast Hwy 101, Encinitas, CA 92024.
Phone: 760.633.1326
Website:Magical Child Shop
The store is located very close to Cardiff, about 10 minutes away. Being a local classic, Magical Child began in 1995 and has continued to serve the local community with a wide selection of products that will surely make your kids day.
It is the perfect place to shop if you have left your little ones at home for this trip. It offers a wide selection of unique and timeless toys, games, books, clothes, gifts and more. Whatever your child might be interested in, this is the go to place when searching for a gift for the little one.
La Costa Kids, Local, Small Retail Shop in Encinitas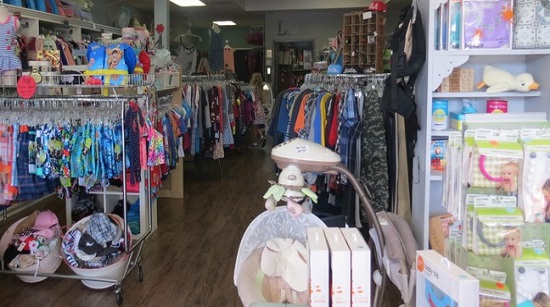 Location: 372 N. El Camino Real, Encinitas, CA 92024.
Phone: 760.944.9076
Website: La Costa Kids Shop
This shop is also located in a walking distance from Cardiff-by-the-Sea, at a just 5 minute drive away.
La Costa Kids is a family owned and operated upscale children's retail and resale boutique for infants through teens.
The best thing about this small shop is that upon entering the store you can feel the family vibe right away. The staff here is truly welcoming and they surely try their best to help you find what you are looking for. And since the store doesn't have a certain product inventory you never now what unique items you may find.
Gift Shops In San Diego
Bazaar del Mundo Shop
Location: 4133 Taylor St, San Diego, CA 92110.
Phone: 619.296.3161
Website: Bazaar del Mundo Shop
If you are in the mood for a delightful and different San Diego shopping experience, you must treat yourself to the Bazaar Del Mundo Shops for an outstanding shopping in San Diego.
This locally owned shop is a lively and colorful entry to San Diego?s Old Town community that captures all the warmth of Old Mexico in an intimate setting.
Here you can find a vast selection of treasures and specialty items from Latin America and around the world including folk art, crafts, gifts, women?s fashion, jewelry, fair trade merchandise and home d?cor, all carefully hand-selected in vibrant colors and designs.
A lively and colorful entry to San Diego?s Old Town community, Diane Powers? locally owned and operated Bazaar del Mundo Shops capture all the warmth of Old Mexico in an intimate setting. Shoppers will find
Wheelhouse Gift Shop
Location: 1070 N. Harbor Dr., San Diego, CA 92101.
Phone: 619.481.8257
Website: Wheelhouse Gift Shop
The Wheelhouse Gift Shop is Flagship's shop located just a few steps Flagship Loading Dock, north of Broadway Pier on the San Diego Embarcadero. You can get there by car in about 30 minutes.
Here you can pick up all the essentials you might need and a wide variety of gifts and souvenirs.
Don't let the outside look fool you, it might look small but the shop is packed with high quality San Diego merchandise, from hats and hoodies to magnets and mugs. They also offer a 10% discount on any one item if you mention Flagship Cruises&Events which is the owner and operator of the shop.
Kiko & Sven Shop
Location: 3723 Adams Ave, San Diego.
Phone: 619.677.2192
Website: Kiko & Sven Shop
This shop is located in San Diego, 30 minutes away from Cardiff-by-the-Sea. It is a locally owned small shop for all things creative, locally sourced and beautifully crafted items. The shop is getting new things every week, the tiny shop is brimming with finds from all over the world.
You can find a great variety of handmade beautiful products such as jewelry, babies and mama's products, home decor, accessories and others.
Simply Local Shop
Location: 3013 University Avenue, San Diego, CA 92104.
Phone: 619.756.7958
Website: Simply Local Shop
Simply Local San Diego is a local marketplace located in the heart of the North Park Community at about a 20 minute drive from Cardiff. Simply Local was born out of a need to give local artisans a prominent retail location to showcase their creations. You can find various gifts worthy items such as unique home decorations, jewelry, apothecary and others.
Supporting Local Businesses
Whether you are shopping for your family or friends, big or small, young or old, you will surely find a perfect gift among the gift shops in and around Cardiff-by-the-Sea. You have a broad assortment of handmade, local, beautiful items from which to choose to make for a perfect gift to show your loved ones how much you care for them.
Many local businesses have closed their doors because of the tough financial situation the pandemic put them into and several of the ones that managed to remain open are still struggling. During these hard times, it is essential that we help each other out. All the big corporations will surely get out of this untouched so now comes the time to focus on buying local as much as possible in order to help out the local, family owned businesses get through this.
Perfect Vacation Rentals for a Pleasant Stay in San Diego
Located in Cardiff by-the-Sea, only 26 miles from downtown San Diego you will find our luxurious vacation rentals. The Parkhouse, the Penthouse,and the Seacottage are the excellent choices for your stay in San Diego.

Minutes from the beach and all major attractions, our beautiful homes are cleaned as per CDC regulations and ready to welcome you, our guests, all year round. With beautiful amenities at the properties, our vacation rentals are suitable for families traveling with kids for a fun-filled San Diego vacation, as well as for couples searching for a relaxing retreat. San Diego with its beautiful weather and kind people welcomes guests all year round, and so do we at Cardiff Vacations.
For a pleasant stay in San Diego choose Cardiff Vacations!