Labor Day is celebrated by Americans every first Monday in September since the late 19th century. Created by the labor movement this holiday pays tribute to the contributions and achievements of American workers.

Since then Labor Day parties have become some of the best events to attend and the 1-day celebration expanded over the entire weekend preceding the first Monday of September. This is the perfect occasion to send summer off and say hello to the first days of fall surrounded by family and friends.
Labor Day Weekend is also a perfect excuse to escape the mundane and run of with your nearest and dearest for a beautiful vacation in Encinitas California.
The month of September in Cardiff-by-the-Sea, Encinitas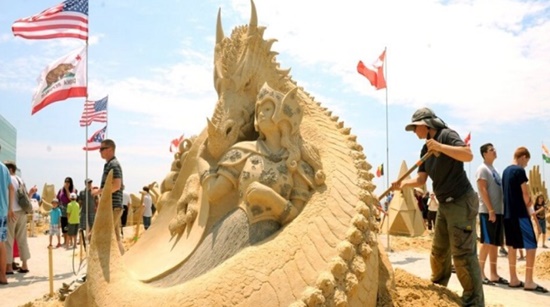 Cardiff by-the-Sea is among the top places to visit for Labor Day Weekend in California and that is because it has a little something for everybody. Your kids will enjoy some quality time playing on the many beaches in the area and you can still catch some sun with the temperatures ranging from 64F to 84F in September. The water temperature, however, is averaged at around 67F which is not ideal for swimming, but you can still surf as August and September are really good for longboarding with 1-3ft waves on average.
Another awesome activity that you and the kids will equally love in Encinitas for your perfect Labor Day Weekend holiday is the annual Sand Sculpting Challenge. Labor Day is celebrated on the 7th of September in 2020 and the Sand Sculpting Challenge will take place that very weekend scheduled for the 5th to 7th of September. The event organizers will be bringing 300 tons of sand to the B Street Cruise Ship Terminal Pier and create designs out of sand you would not have previously thought possible. The U.S. Sand Sculpting Challenge and Dimensional Art Exposition is open to the public for 3 days: Saturday, Sunday, and Monday, Sept 5-7, 2020. The event is held rain or shine!
Safe Accommodation for Labor Day Weekend in Encinitas
The year 2020 has tried all of us hard and forced us to reconsider if we should be taking chances and go in a vacation or stay at home and wait for the pandemic to end. At Cardiff Vacations, we don't believe in taking chances when it comes to our guests' safety and wellbeing. This is at the top of our priority list and we follow strict CDC regulations when it comes to cleaning and sanitizing our properties.
By booking your stay for Labor Day Weekend in Encinitas with us, you can rest assured that you are not risking your family's wellbeing. We privately own three beautiful homes where you can enjoy a stress-free Labor Day vacation.

Choose between our Parkhouse, Penthouse, or Seacottage and come down to Encinitas, California to celebrate Labor Day Weekend with your loved ones.