The month of December may be the best, out of peak season, time to visit San Diego. Beautiful lights light up the city's streets and even though this whole pandemic situation has put on hold several events, there is still much fun to be found in the city this holiday season.
Some events that may spark your interest if you chose to visit us this December:
San Diego Bay Parade of Lights
Winter Whale Watching
Jungle Bells at the San Diego Zoo
Las Posadas - San Diego Old Town Celebration
San Diego Bay Parade of Lights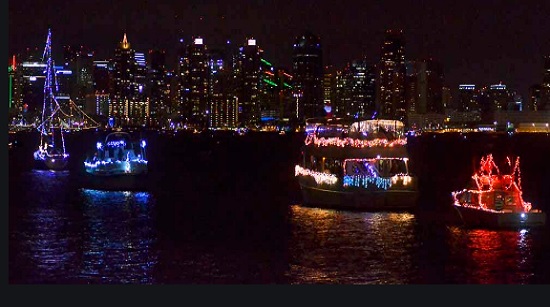 Covid-19 update: Unfortunately, this year's parade of lights has been canceled.
Date: 13 & 20 December 2020.
Location: San Diego Bay.
The San Diego Bay Parade of lights is a long-lasting holiday tradition brought to life by San Diego's boating community.
Participants in this year's parade will decorate their boats to fit the theme which is "The Twelve Days of Christmas".
Unfortunately, due to Covid-19, changes have had to be made in the event's schedule and due to county and state health regulations,?there will be no Awards Dinner this year.
Attending this parade is completely free.
It starts at 5 p.m. each night from Shelter Island and ends at the Ferry Landing in Coronado. Spots from which to best see the parade:
Shelter Island
Harbor Island
The Embarcadero
Seaport Village
The Pier at Cesar Chavez Park
Ferry Landing on Coronado
Winter Whale Watching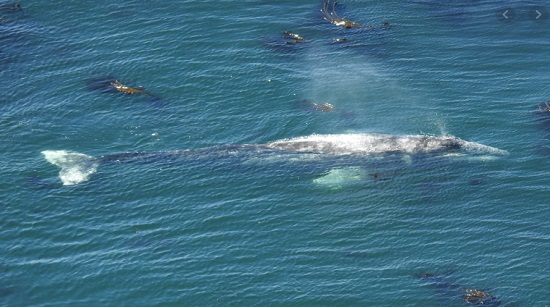 Mid-December is when the great Gray whales start their migration back to the North, after spending some time in warm Baja California waters for their young to grow strong. Usually, they travel alone or in pods of two or three but during this time you may spot more traveling together.
Several tour operators offer whale watching tours but for those of you that would prefer staying on land, there are also some nice spots on the shore from where you can witness the whales' migration:
Birch Aquarium at Scripps
The Cabrillo National Monument
Torrey Pines State Reserve
Jungle Bells at the San Diego Zoo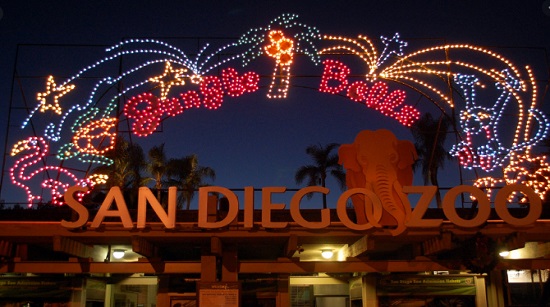 Date: Dec. 4-6, 11-13, 18-23, 25-Jan. 3.
Location: San Diego Zoo, 2920 Zoo Dr, San Diego, CA.
This December, the San Diego Zoo will be transformed into a wild wonderland. Twinkling lights, merry-making performances, and festive foods will fill the zoo, and its visitors, with holiday cheer.
Due to current social distancing procedures prepare for a wait time of up to one hour to enter the Zoo.
To shorten waiting times and for a safer, quicker admission, be sure to get your tickets beforehand.
Special attractions you will find at the Zoo during this event:
Light sculptures of animals
Joyful Christmas carols
Specially decorated and lit trees
"Dancing lights" set to holiday music
Las Posadas - San Diego Old Town Celebration
Date: December 14th (12:00 - 8:00 pm).
Location: Old Town San Diego, CA 92110.
This event is based on the story of Mary and Joseph's search for shelter in Bethlehem and has been a tradition for the past 69 years. The Old Town Comes to life on this day and you can feel the joyful, festive vibe in the air.
During this day's celebration you will be able to enjoy:
Beautiful festive decorations
Entertainment for the whole family
A relaxing campfire at the end of the day
Perfect Holiday Vacation Rentals for a Pleasant December Stay in San Diego
Located in Cardiff by-the-Sea, only 20 minutes away from downtown San Diego you will find our luxurious vacation rentals. The Parkhouse, the Penthouse, and the Seacottage are excellent choices for your stay in San Diego. Our beautiful homes that are cleaned as per CDC regulations, located minutes from the beach and all major attractions, are fully equipped and ready to welcome you, all year round.
Having beautiful amenities at the properties, our vacation rentals are suitable for families traveling with kids for a fun-filled San Diego vacation, as well as for couples searching for a relaxing holiday season retreat.
For the best San Diego December experience choose Cardiff Vacations!