When you've had enough time to relax and recharge in the peaceful Cardiff-by-the-Sea and you feel like you want to enjoy what the big city has to offer, San Diego is just 20 minutes away.
Popular things to do in San Diego during the summer:
Enjoy San Diego's Bay Area Activities
Visit San Diego's Safari Park
Check out Balboa Park and San Diego's Zoo
Enjoy a Fun Day of Water Activities at Mission Bay Park
Visit Coronado Island
Watch the Sunset at Sunset Cliffs Natural Park
For visiting several San Diego attractions we recommend you to opt for a Go San Diego Pass that can save you up to 55% of the admissions fees.
If you've never been to San Diego before, for sure this list doesn't say much to you so below you will find a detailed description of each of these locations.
San Diego Bay Area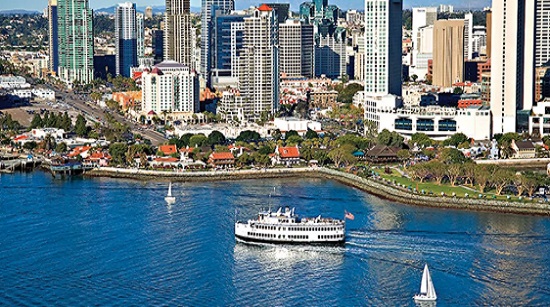 San Diego's bay area might just be the most popular one in the city during the summer.
It is a place where nature thrives, being one of the largest natural bays. It is also home to The San Diego National Wildlife Refuge Complex that includes areas such as:
The Salt Ponds
The Sweetwater Marsh
With the various tours and activities that the area offers, you can easily spend a whole day here and still be left wanting more. A unique experience that should not be missed is taking a SEAL tour.
San Diego's SEAL Tours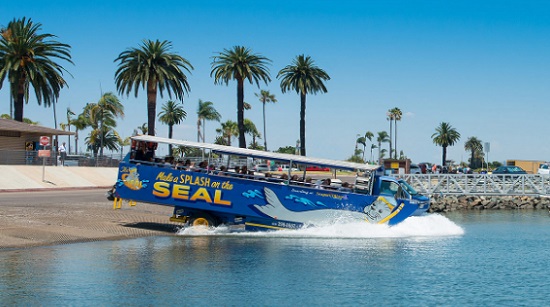 Departure: Seaport Village or The Embarcadero.
The San Diego Seal tour sea & land adventure truly is one of a kind. This 90 minutes, fully narrated tour in an amphibious vehicle takes you from Seaport Village or The Embarcadero through the picturesque streets of San Diego and into the ocean's water. It's an interesting experience for children and adults alike. During the tour, you will learn more about San Diego's history and attractions such as:
The Maritime Museum
Star of India
The U.S.S. Midway
Seaport Village
Point Loma
Shelter Island
The various boating services providers offer a wide selection of cruises and boat rides, with different services included depending on the price range. Before you go to the harbor area make sure to check online which cruise would best suit your needs to not waste the time there and to know the specific schedule for each cruise.
Here are a few examples of cruises that you can find in San Diego's bay area:
San Diego Harbor Day Cruise or Dinner Cruise.
San Diego Whale Watching Cruises.
San Diego Bay Jet Boat Ride.
San Diego Harbor Speed Boat Adventures.
San Diego's Safari Park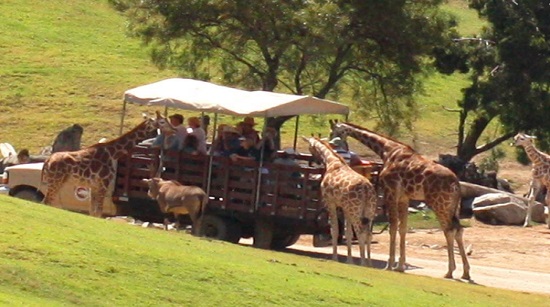 Adress: 15500 San Pasqual Valley Rd, Escondido, CA 92027.
Summer Opening Hours: June 29 - August 18: 9 a.m. - 7 p.m.; August 19 - September 2: 9 a.m. - 6 p.m.
San Diego's Safari Park is located in Escondido, about a 40-60 minute drive north from downtown San Diego.
You can also get there by public transportation but it's not the best choice as it will take you over 2 hours from downtown San Diego.
Besides taking a stroll around the area and observing animals in their natural environment, there are other fun activities to be done here:
Ride The Africa Tram - a 20-30 minutes ride on the covered, open-air tram during which you get to see lots of animals. Make sure to bring a pair of binoculars since the animals may be far away due to the size of the enclosement.
Visit The Safari's Elephant Valley - an area dedicated solely to elephants where you can see their abilities and learn more about them through an educational talk at the amphitheater.
Check Out The Gorilla Exhibit - here you can get an unobstructed view of the large and active gorilla family.
Watch The Cheetah Run- here you can watch Shiley the Cheetah reach speeds of up to 70-miles per hour during a 330-feet race.
Balboa Park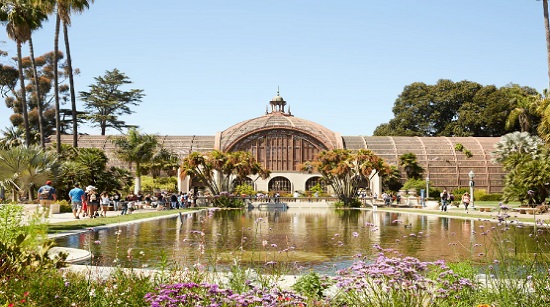 The 1,200-acre acre historic urban cultural park, located near downtown, San Diego, is one of the largest urban parks in the country and an enormous playground for kids and adults alike with its museums, theaters, art galleries, and the famous San Diego Zoo.
A few worthy of mentioning fun-filled attractions:
The Antique Carousel and Miniature Railroad (kids only)
The Model Railroad Museum
The Air & Space Museum
Natural History Museum
The Marie Hitchcock Puppet Theater
The San Diego Zoo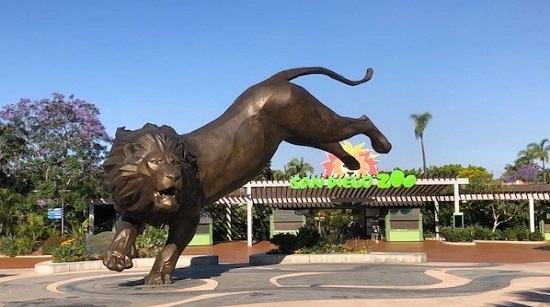 Located right in Balboa Park, the San Diego Zoo is very easy to get to, even without a car, on bike, or with public transportation. It spreads out on 100 acres of land and is home to over 3,700 animals and more than 650 species from all over the world. The Zoo has the largest population of giant pandas in North America.
Few fun things to do at the zoo:
Take a Guided Bus Tour
Check Out The Panda Canyon
Take a Ride at The Skyfari Aerial Tram
Visit The Northern Frontier & Polar Bear Plunge
Mission Bay Park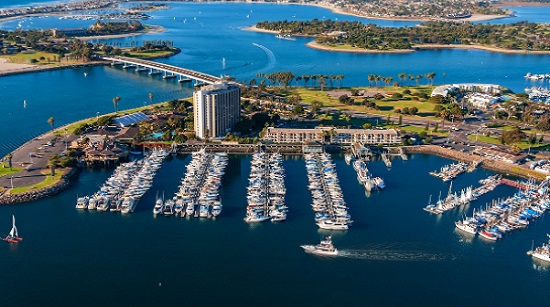 Location: 2688 E Mission Bay Dr, San Diego, CA 92109-6802.
Mission Bay Park is the largest park of its kind, in the country, with 4,600-acres of water fun. It encompasses 27 miles of shoreline, 19 of which are sandy beaches that feature eight locations designated as official swimming areas. You can easily spend a day here and never get bored. Few fun attractions, in and out of the water:
Kayaking
Water Skiing
Sailing
Kite surfing
Paddleboarding
Basketball
Bike rides
Volleyball
Sea World San Diego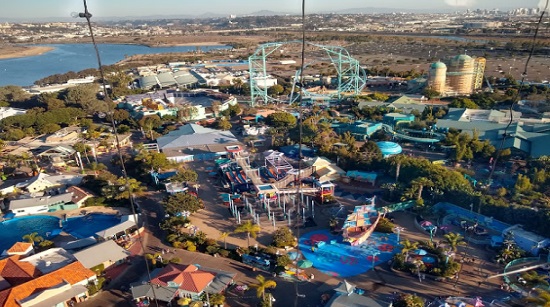 Address: 500 Sea World Dr, San Diego, CA 92109.
Opening Hours: Weekdays: 11 a.m. - 6 p.m. ; Weekends: 9 a.m. - 7 p.m.
In Mission Bay Park you can also find Sea World, one of the most popular marine-life parks in the world. Here you can enjoy incredible views of sea life and other animals through close up and even hands-on encounters. Besides watching the marine wildlife you can enjoy several other fun-filled activities:
Going on one of the many water rides
Taking part in an animal interaction program
Seeing the park from above in its iconic 320-foot Skytower.
Coronado Island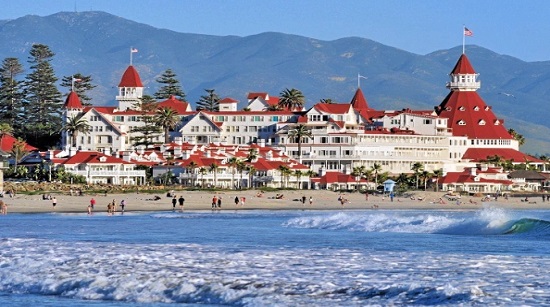 Located just across the bay from downtown San Diego, Coronado Island, With its sparkling wide-sand beaches, elegant gardens, old-world mansions, quaint shops, and oceanfront luxury dining, is a must-see when visiting San Diego. Best things to do here:
Enjoy a tranquil day at the beach
Go on a bike ride on the bike-friendly beachfront boardwalks
Go kayaking, sailing, stand-up paddling, or surfing
Take a Venetian gondola cruise
Enjoy a game of golf on Coronado's Public Golf Course
Visit the historic beachfront luxury hotel, Hotel del Coronado
Sunset Cliffs Natural Park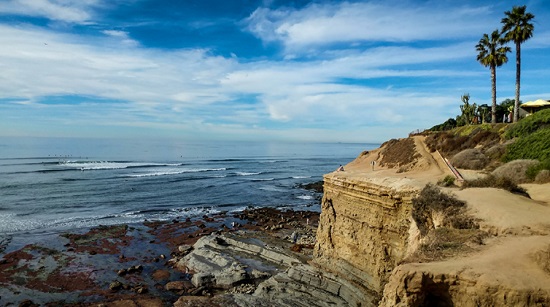 Location: Ladera St, San Diego, CA 92107.
Sunset Cliffs Natural Park is a 68-acre park in San Diego that stretches for 1 1/2 miles along the Point Loma peninsula's western shoreline. It is a beautiful coastal environment that features unique attractions such as:
Expansive ocean views.
Stunning cliff formations and caves.
A fascinating inter-tidal area.
A native coastal sage scrub habitat, that connects to the adjacent Point Loma Ecological Resort.
The most amazing sunsets that you will ever see.
Perfect Vacation Rentals for a Pleasant Stay in San Diego
Located only 26 miles from downtown San Diego, in Cardiff by-the-Sea, Encinitas, you will find our luxurious vacation rentals. The Parkhouse, the Penthouse, and the Seacottage are excellent accommodations choices for the best summer vacation in San Diego.
Our alluring homes are located just minutes from the beach and other local major attractions and are ready to welcome you, all year round. They are thoroughly cleaned as per CDC regulations to make your stay as safe as possible. They are suitable for families traveling with kids for a fun-filled vacation, as well as for couples searching for a relaxing retreat.
To best experience the San Diego area, choose Cardiff Vacations!