Every once in a while we all deserve a day just for ourselves to completely relax and unwind. A day at the Spa can be the perfect opportunity to let go of any stress or negative feelings we might be holding on to. Beneficial effects of going to the Spa:
Improves Sleep Quality
Relieves Muscle and Joint Pain
Improves Circulation and Helps Prevent Varicose Veins
Helps Your Body Eliminate Toxins
Releases Built Up Stress
Helps With Weight Loss
For a truly rejuvenating vacation we recommend that you take the time to have at least one day of complete relaxation at one of the local Spas in the area.
Top 5 Spas around Cardiff-by-the-Sea
Whether you are a first timer or a regular, choosing the right Spa can make the difference between an alright experience and a truly refreshing one. To help you make the best choice we have put together a list of some of the best Spa resorts in the surrounding area that we recommend to our guests. These Spas offer high class services and have some unique techniques that cannot be found elsewhere.
Fairmont Grand Del Mar Center for Wellbeing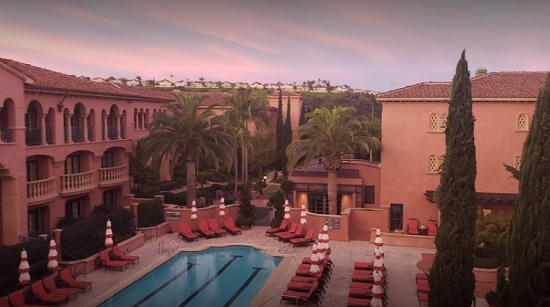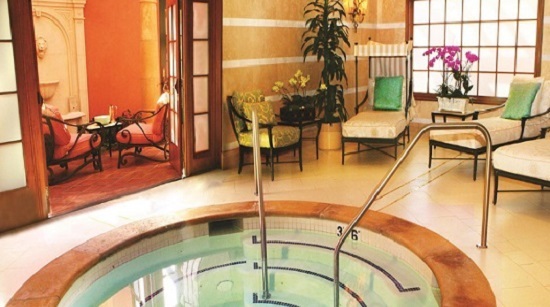 Adress: 5300 Grand Del Mar Court, San Diego, California.
Phone: 858 314 2020
Website: Fairmont Center for Wellbeing
We recommend that you go to The Center For Wellbeing at Fairmont Grand Del Mar to discover a world of beauty and being, in the breathtaking Los Penasquitos Canyon Preserve, surrounded by an abundance of fauna and flora that wash over your senses. The best thing is that it is located in Del Mar, just 10 minutes away, by car, from Cardiff-by-the-Sea.
Fairmont Grand Del Mar Spa is San Diego's premier resort spa, one of only 60 Forbes Five-Star spas in the world and features a comprehensive menu of treatments, such as cleansing facials and therapeutic massages, as well as a custom organic product line.
Here, you can explore the wild herbs, mineral-rich clays and plethora of local elements used in their restorative spa treatments and immerse yourself in the art of wellbeing. The Center for Wellbeing also offers an array of beauty services, from manicures and pedicures to special occasion hair-styling and makeup, you can renew your health and your look with the help of their trusted spa and salon experts.
Spa Montage, Laguna Beach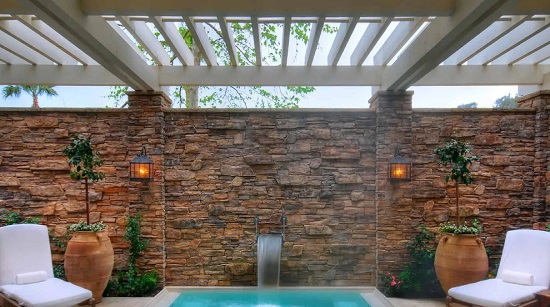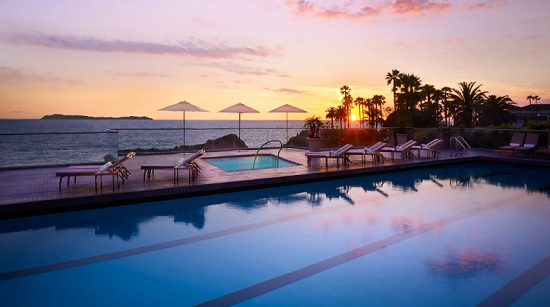 Adress: 30801 South Coast Highway, Laguna Beach, CA 92651.
Phone:866.271.6953
Website: Spa Montage
This luxurious Spa resort is located a little bit further away from Cardiff-by-the-Sea, about 50 minutes away. But it's most definitely worth the drive.
The resorts amenities spread out throughout a 20,000 square foot spa. Here you can enjoy Eucalyptus steam rooms, dry redwood saunas, ocean air whirlpools, fireplace lounges, state of the art fitness center, movement studio and lap pool featuring stunning views of the Pacific.
The resorts therapies combine European spa science with ancient wisdom traditions to bring you transformational wellness in a serene, relaxing atmosphere.
Cal-a-Vie Health Spa, Vista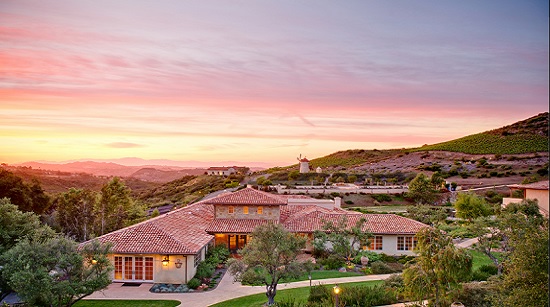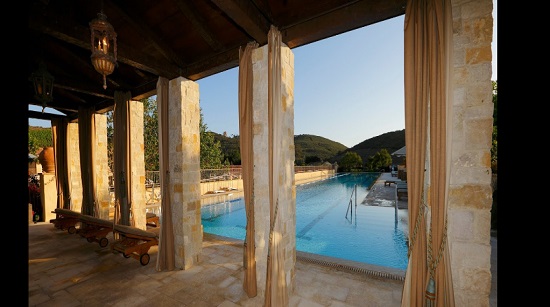 Adress: 29402 Spa Havens Way, Vista, CA 92084.
Phone:888.373.8773
Website: Cal-a-Vie Health Spa
Complete relaxation is infectious at Cal-a-Vie Health Spa. There is surely no better way to experience this than with one of the resorts many treatments in a luxurious setting. You can wind down with antioxidant-rich vinotherapy, or an aquatic massage in the watsu pool, pamper up with a manicure or experience the ancient art of acupuncture.
The resorts international specialists are devoted to bring you a new degree of bliss making use of the finest plant and sea extracts nature has to offer, in each spa treatment. Aromatic oils and restorative lotions are used in everything from facials to body scrubs. Plus, unique spa rituals make use of the ambrosial ingredients surrounding us, including a grape skin body wrap and lavender honey wrap.
Lemongrass Center, Encinitas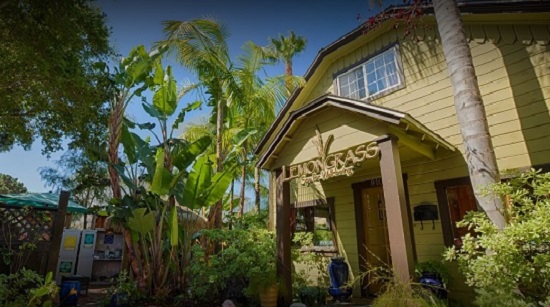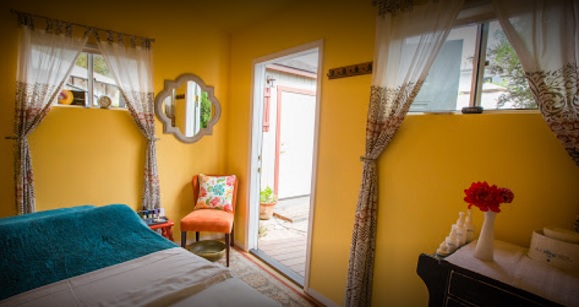 Adress: 910 2nd Street, Encinitas, CA 92024.
Phone:760.633.1970
Website: Lemongrass Center
Also located in the close proximity of Cardiff-by-the-Sea, in Encinitas, Lemongrass is an Aveda Salon and Spa specializing with a holistic approach to hair, skin and body care.
The team of massage practitioners and hair stylists take into account your emotional, spiritual and physical well-being, so that each experience addresses your specific needs and desires. They offer high quality multi-sensory experiences that deeply nourish your mind, body, and spirit.
They specialize in a holistic approach to massage and body care which means that their team of massage practitioners take into account each guests emotional and spiritual well being, as well as any physical discomfort occurring in the body. This ensures that each massage is a customized experience that address the specific needs and desires of each guest.
All of their 1.5 hour massages and specialty massages begin with a calming foot soak, scrub and massage before transitioning into your full treatment.
Go Vichy Spa, Encinitas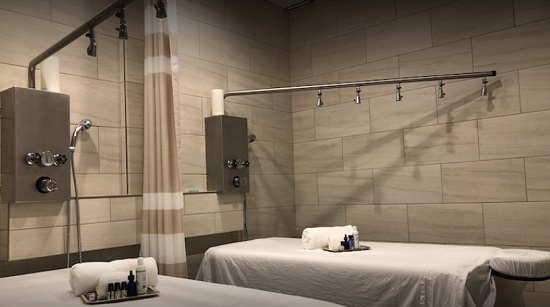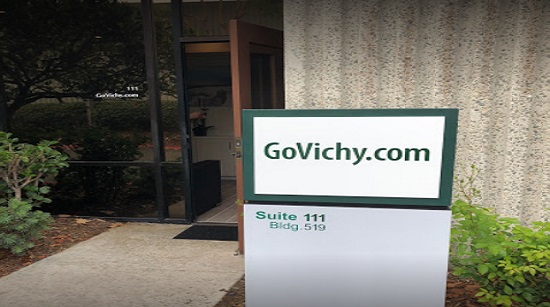 Adress: 519 Encinitas Blvd Ste 111, Encinitas,CA 92024.
Phone:760.557.4999
Website: Go Vichy Spa
Located very close to Cardiff-by-the-Sea, in walking distance, at an about 5 minute drive, Go Vichy focuses on health and wellness through the form of Vichy, body scrubs and Asian massage. The Spa offers a one of a kind experience - the Vichy Treatment. This form of hydrotherapy has been used by many ancient civilizations for its therapeutic, curative and relaxing effect on the mind and body.
For the best results, the West meets the East, starting with an Asian body scrub and finishing with a Vichy shower and massage. For even more benefits you can add extra services such as hot stones, cupping, other massage services, etc. CBD oil is available to be sampled. Go Vichy is a place for all ages and genders. It is the best place for you to take care of your health, body, and wellness at an affordable price.
Perfect Vacation Rentals for a Pleasant Stay in San Diego
Located in Cardiff by-the-Sea, only 26 miles from downtown San Diego you will find our luxurious vacation rentals. The Parkhouse, the Penthouse,and the Seacottage are the excellent choices for your stay in San Diego.

Minutes from the beach and all major attractions, our beautiful homes are cleaned as per CDC regulations and ready to welcome you, our guests, all year round. With beautiful amenities at the properties, our vacation rentals are suitable for families traveling with kids for a fun-filled San Diego vacation, as well as for couples searching for a relaxing retreat. San Diego with its beautiful weather and kind people welcomes guests all year round, and so do we at Cardiff Vacations.
For a pleasant stay in San Diego choose Cardiff Vacations!