Encinitas is a spiritually rich area with various stunning natural attractions where you can enjoy a peaceful meditation and rebalance yourself, especially during these stressful pandemic times.
Meditating has many benefits, both physically and mentally. Even a short 10 minutes of practice can leave you feeling renewed and ready to tackle life's challenges.
Best meditation spots in Encinitas include:
Swami's Beach
Cardiff State Beach
Meditation Gardens
San Diego Botanic Garden
Swami's Beach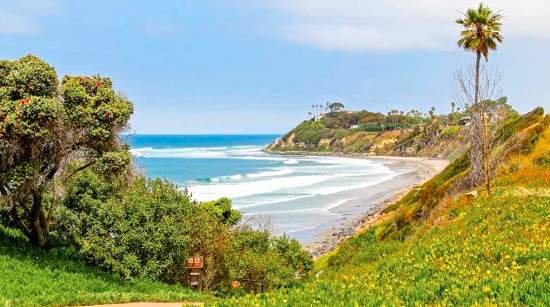 Swami's Beach, Encinitas, is an internationally known surfing spot that draws up surfers from around the world, with waves that can surpass 10 feet, during the fall season.
Swami's is also a very spiritually strong location, being named after Swami Paramahansa Yogananda, an Indian monk, yogi, and guru that is thought to have brought the yoga tradition to California.
Popular things to do at Swami's besides meditating:
yoga sessions on the beach
watch surfers
enjoy a picnic
check out the tide pools
Cardiff State Beach
Cardiff State Beach is renowned for being one of the best surfing spots in the San Diego area but there is much more to it than this. Located alongside Cardiff-by-the-Sea, a coastal community rich in natural beauty and local pride, the Cardiff State Beach is a gorgeous, family-friendly, pristine beach, perfect for a relaxing meditation session in Encinitas. Other fun things to do at Cardiff State Beach:
paddle-boarding
surfing
exploring the tide pools
beach sports
To make things even better, the beautiful San Elijo Lagoon Ecological Reserve is just around the corner.
San Elijo Lagoon Ecological Reserve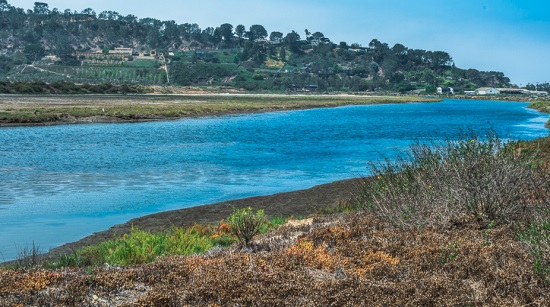 Visiting hours: Monday - Sunday: 09 a.m. - 05 p.m.
The San Elijo Ecological Reserve, located in Cardiff-by-the-Sea, Encinitas, is one of the main natural attractions near San Diego and a very important natural habitat as it protects a large number of plant and animal species.
Here, in this serene natural environment, you will surely find a quiet place for a soothing meditation session. Other fun activities at the San Elijo Ecological Reserve include:
hiking
tide pools exploration
scavenger hunts (for kids)
wildlife viewing
San Diego Botanic Garden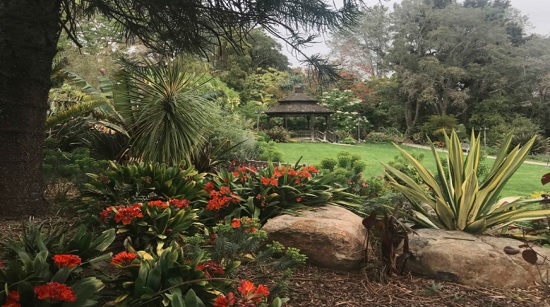 Visiting Hours: Wednesday - Sunday: 10 a.m. - 5 p.m.; Monday & Tuesday - closed;
The San Diego Botanic Garden is one of California's most stunning natural attractions, located in Cardiff-by-the-Sea, Encinitas, it encompasses four miles of garden trails, restful vistas, flowering trees, majestic palms, and the largest bamboo collection in the US. It is truly a place that inspires people of all ages to deepen their connection with nature.
The wide variety of plant species and wildlife give the garden a peaceful, serene vibe that makes it one of the best meditation spots in Encinitas, perhaps even in all of California.
Moonlight State Beach and Leucadia State Beach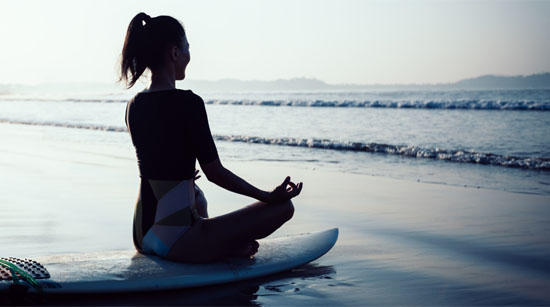 Leucadia State Beach, also known as Beacon's Beach, is another popular spot for many beach activities. The beach is peaceful and serene, and it's wide enough to find a tranquil spot for meditation.
It's a fantastic place to see the beautiful scenery and the sunset. Tourists flock to the other beaches; therefore, Beacon's Beach kind of flies under the radar.
Moonlight State Beach is a clean beach with a large sandy area, fire pits, and it's typically not so crowded. If you want to be sure to beat the crowds and enjoy some tranquil moments during the summer, go there early in the morning or a bit after the sunset.
Self-Realization Fellowship Meditation Gardens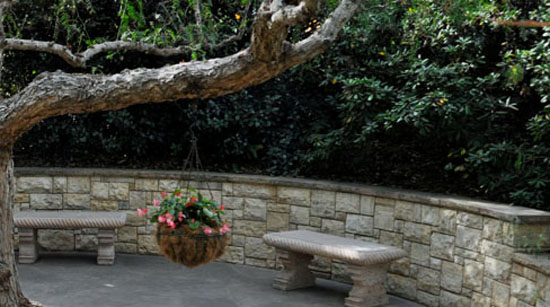 A special local attraction and a gorgeous meditation place is the Self-Realization Fellowship Encinitas Temple and the Meditation Gardens.
The Encinitas Temple is a branch of the Self-Realization Fellowship and offers a complete program of inspirational lecture services, meditations, and other activities to introduce visitors to the teachings of Paramahansa Yogananda. The famous kriya yogi Paramahansa Yogananda founded the nearby Meditation Gardens during his lifetime.
Since then, this fabulous place has become a pilgrimage center for thousands of tourists and spiritual seekers who want to deepen their spiritual practices.
The beautiful renowned gardens offer diverse meditation nooks providing an inspirational setting where you can sit quietly to pray and meditate.
Perfect Vacation Rentals for the Most Relaxing Stay in Encinitas
Our luxurious ocean-view vacation rentals are located in a serene natural environment in Cardiff-by-the-Sea, Encinitas, a peaceful, friendly beachside community. The Parkhouse, the Penthouse, and the Seacottage are excellent accommodations choices for a relaxing stay in Encinitas, California.
Our stylish homes, located just minutes from the beach and other major local attractions, are ready to welcome you all year round. The safety of our guests is very important to us, so you can rest assured that our properties are thoroughly cleaned as per CDC regulations to make your stay as safe as possible. For the most peaceful and relaxing getaway in Encinitas, San Diego, choose Cardiff Vacations!