Ok, so your trip to Europe this year is clearly off the table, and you will not be able to attend that music festival you've been thinking about all year, not to mention that cruise to the Caribbean. But that does not stop you from driving to amazing places and get a sense of normalcy, as much as possible in these times.
With its year-round nice weather and scenery that seems cropped out of exclusive travel magazines, San Diego County is a great place to explore from the safety of your own vehicle. All you'll have to do is pack-up the kiddos, prepare some delicious snacks for the road, buckle-up your seat belts, and press play to that sing-along playlist for a refreshing road trip through America's Finest.
Scenic Coastal Drives In San Diego County
There are many routes to enjoy the best scenery while driving through SoCal. From short, 25-minute drives to our very own cute little surf-town of Cardiff By-the-Sea all the way to Northern California and even New Mexico.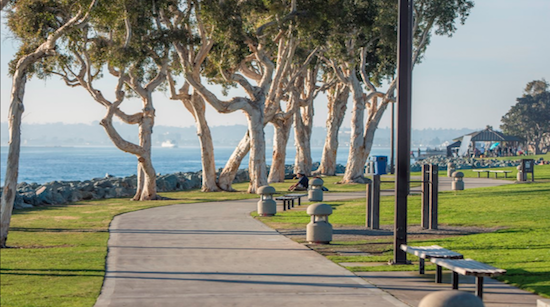 Start your driving trip at the Embarcadero and enjoy the beautiful parks in the area. Take a stroll through Marina Park South and enjoy the public art displayed at Tuna Harbor Park.
Drive north along the harbor on Harbor Drive where you can fully enjoy spectacular views of the city skyline, San Diego Bay, Point Loma, and the Coronado Bridge.
You also need to visit Spanish Landing Park and get a sweeping view of the marina from relaxing walkways and park benches. Hint: you could also stop here for a picnic!
Afterward, head over around Point Loma, which is the southwestern most point of the continental US. This beautiful scenic drive in San Diego County will reveal pristine coastal views and unique city scenery (that is definitely worth immortalizing) all the way north to Ocean Beach.
You need to pass through Sunset Cliffs, named after the sheer cliffs which border the ocean. Sunset Cliffs stretches across 68 acres and runs 1.5 miles along Point Loma peninsula's western shoreline and is accessible from 6 parking lots located North and South of the park.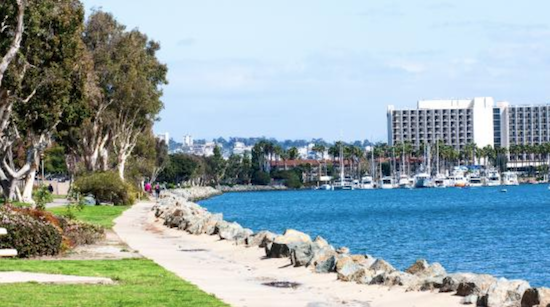 Take the 3-mile family-friendly hike in Sunset Cliffs National Park.
Head over to Luscomb Point- a wedding and sunset-watching favorite point named after the local surfing personality Happy Luscomb.
North of Ocean Beach, at a short distance of only 9 minutes driving along the Sunset Cliffs Boulevard, you will arrive at Pacific Beach. This San Diegan neighborhood is bordered by La Jolla to the North and Mission Beach to the South and is a great place to get into the SoCal sunbathing and surfing culture.
Your next stop from here can be the laid-back coastal town of La Jolla which is Spanish for "jewel" and drive on to the Historical Highway 101.
While in La Jolla don't miss the chance to drive along the beautiful Torrey Pines State Beach. Unfortunately, Torrey Pines State Natural Reserve continues to be temporarily closed. The full closure means there is no public access at these public outdoor spaces on a temporary basis to protect public health from the COVID-19 pandemic, but the scenic drive along the beach will make-up for the inconvenience.
Highway 101 - the Pacific Coast Highway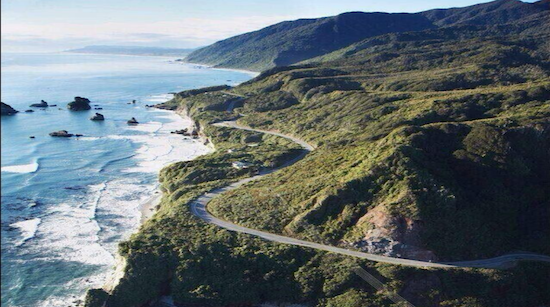 Driving North from La Jolla via Torrey Pines Road you'll discover another gem of the Californian coast. Del Mar's beauty comes from its friendly small-town atmosphere. Here you can enjoy the Del Mar Horse Races, hosted every summer at the Del Mar Racetrack. While here, keep an eye out for dolphins as they are frequently spotted just past the waves in Del Mar.
Passing Del Mar the picturesque coastal drive on historical Highway 101 will lead you to Solana Beach known for its shopping and beautiful art galleries and eventually Cardiff Beach and Cardiff By-the-Sea.
Stop for stunning photos at San Elijo State Beach
Drive North to Moonlight State Beach, Encinitas main central beach
Arrive at Leucadia and discover some of its relatively secluded beaches like Beacon's Beach where you can go surfing pretty much all year round
After another quick photo stop at South Ponto Beach, keep driving on Carlsbad Boulevard into the funky town of Carlsbad. Here is where water was found in 1882 that had similar qualities to the water found at a famous European spa called Karlsbad in Bohemia (Karlovy Vary in the Czech Republic today). Keep driving North into Oceanside, a classic beach community with some of California's widest and sandiest beaches. The Oceanside Pier is the longest over-water wooden pier on the West Coast. Enjoy the 360-degree scenic view of the Pacific Ocean and coastline to the north and south.
Safe and Welcoming Accommodation for Roadtrippers
Even short drives from one lovely beach town to another, coupled with excited kids and picture pit-stops can be tiring. Once you're done taking in all the relaxing, picture-perfect spots SoCal has to offer you can buckle-up and turn the volume up, or sing-along on your way back to Cardiff by-the-Sea, where you will spend a relaxing evening and enjoy a good night's sleep in one of our vacation rentals.
The safety of our guests is our main priority during these times, and you can rest assured that we have taken all proper precautions by thoroughly sanitizing all our properties. You will be able to safely and in full comfort enjoy the sunset on your very own private deck!
Pour yourselves a glass of California wine, sit back, and let the most amazing Californian sunset take away all your accumulated stresses. Chose between our Penthouse, Parkhouse, or Seacottage and let the beautiful road trip along Highway 101 sink in. Enjoy the most memorable getaway with Cardiff Vacation.